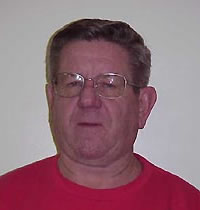 Gustave Edwin Olson, age 73, died Tuesday, October 21, 2014, at Porter Medical Center in Middlebury, VT. He had been a Vermont resident since 2013 moving there from Jasper, GA, and was a longtime resident of Wildwood Crest.

Mr. Olson was born in Wildwood, New Jersey, on December 8, 1940. He was the son of and predeceased by Gustave R. and Beatrice (Herd) Olson. He grew up in Wildwood Crest and graduated from Wildwood High School, class of 1959.

In his earlier years he worked as a mechanic in a local garage. He then joined Atlantic Electric and worked as apprentice, lineman and troubleman for 37 years, retiring in 1996.

He served over 40 years with and is a lifetime member of the Wildwood Crest (NJ) Volunteer Fire Department, serving as Chief for 13 years. He was also a member of the Five Mile Beach Volunteer Firemen's Association, the NJ State Firemen's Association and the NJ State Fireman's Convention Committee.

He was a life member of the N.R.A., belonged to the Loyal Order of The Moose and Ducks Unlimited. He enjoyed camping with family and was an avid fisherman and hunter. He loved spending time on his boat "4/O" with family, friends, and his beloved dog, Snoozer.

Surviving is his second wife of 10 years, Betty Steele of Orwell, VT; two sisters, Barbara (Tom) Sawyer and Donna (Roy) Baker, both of Cape May, NJ; daughter Gayle (Rick) Luderitz of Mays Landing, NJ; son Greg (Susan) Olson of Williamstown, NJ; five grandchildren, Jessica, Ryan, Alexandra, Abigail, Colin; and many nieces, nephews, stepchildren, step-grandchildren, and step-great-grandchildren.

A memorial celebration of his life and community service will be held on Nov. 8 at the Wildwood Crest Fire Department at 4pm. In accordance with his wishes, Gus's cremains will be committed to the sea in one of his favorite fishing spots.

In tribute to Gus, a memorial college fund has been established with Navy Federal Credit Union for his five grandchildren. Contributions in his memory may be made to: Gus Olson Memorial College Fund, C/O Greg Olson 1602 Hessian Dr. Williamstown, NJ 08094. 100% of proceeds will support higher education for Jess, Ryan, Alex, Abby, and Colin.

A private graveside committal service and burial will take place Nov 1 in Pine Hill Cemetery in Brandon, VT. Arrangements are under the direction of the Miller & Ketcham Funeral Home in Brandon.