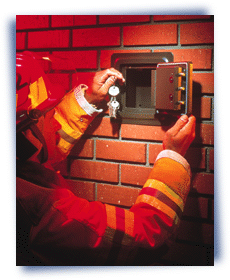 For more information on the
Knox-Box system, visit the
Knox-Box website at
www.knoxbox.com

Wildwood Crest Property Owners:
The KNOX-BOX® program is a secure rapid entry program specifically developed for fire departments. With one master key, the Wildwood Crest Fire Company can gain access to commercial and residential properties located in the borough. More than 6,000 departments nationwide use Knox key boxes and vaults, Haz-Mat cabinets, key switches, and padlocks.
Property owners in Wildwood Crest can store their entrance keys in high-security Knox-Boxes mounted near their building entrances. Each KNOX-BOX purchased by the property owner is keyed to a master key controlled by the Wildwood Crest Fire Department.
With the Knox System, there is no delay in waiting for a property owner to unlock the door in the middle of the night, and no forcing the door open to gain entry. The Knox Rapid Entry System reduces response time and property damage.

Contact the Borough Bureau of Fire Prevention or Fire Chief for information on how to obtain a Knox-Box for your Wildwood Crest home, business or rental property.
BUREAU OF FIRE PREVENTION
Monday-Friday (609) 729-5152
(Borough Hall)
or
FIRE CHIEF
Monday evenings (609) 729-3031
(Fire Station)