New hydraulic tools manufactured by Holmatro have been placed in service on Engine 438. The purchase of the state-of-the-art system was made by the fire company using fund-raising and donation funds.

Included in the system is a model 3150UL Combination Tool (pictured, right). The powerful device features a 14-inch spreader with 16,166 lbs. spreading force and a straight blade cutter with 67,600 lbs. cutting force.

The tool is powered by a model PPU-15 "Personal Power Unit" weighing only 35 lbs. The totally portable pump features a 2.5 hp Honda gasoline motor with two tool connections.

A model 3340 Mini Telescopic Ram, two 20-ft. hydraulic hoses, and two sets of Step Chocks and Wedges, used for vehicle stabilization, complete the lightweight system.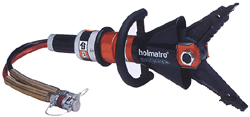 The system has been mounted on Engine 438 giving the first out apparatus increased forcible entry capabilities.
An initial 8-hour training course provided by the local Homatro dealer, ESI Equipment Inc.of Jenkintown, PA, has been completed by 20 fire company members and advanced training is currently being planned.
Safety glasses and lightweight leather gloves have been added to members' personal protective equipment for use with the new system.