Photos from
the Memorial Service
at the
Cape May County
Training Facility
for the
Fallen Emergency
Services Personnel
in
New York City
September 18, 2001

The Wildwood Crest Fire Department
expresses its sincere condolences to the
Fire Department of New York
and to the families of our brothers
who perished in the World Trade Center tragedy.


May they rest in peace.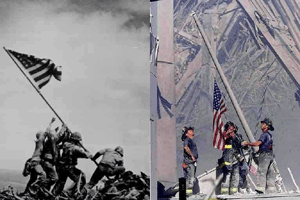 Please use "Back" button to return
to previous page.

NYC Firefighters

As most of us stopped, to see the fire in the sky,
you were in the trucks, passing us by.

As the unthinkable horror, makes us shed a tear,
you entered the building, in your rescue gear.

As we sat in panic, praying for no more
you were climbing stairs, floor by floor.

We sat confused, awed, and in strife
you were looking, hoping, and praying for life.

As the building came down, we feared you would too.
But God gave you wings, and instead you flew.
- Emily Dickenson