WISTERIA ROAD DUPLEX FIRE - January 27, 2004
PHOTO BY DAVID WILLIAMS - Cape Graphics Service
January 27, 2004 - 11:49 hrs - A fast-moving fire in the second floor unit of this East Wisteria Road duplex began in a trash can just inside the kitchen door at the rear of the building. Both units were unoccupied at the time of the incident. E438 stretched a 5" supply as two 1-3/4 lines were put in service by T460. Two additional hoselines were put in service by E438 after establishing the supply. Wildwood Fire Department (E338, E337, T351) was requested immediately for manpower, and responded quickly and provided interior hoseline crews and roof ventilation. Personnel from E437 and Wildwood also initiated salvage operations on the first floor. Ambulance 452 from Wildwood Crest responded and assisted at the scene.
SEAVIEW AVENUE CONDOMINIUM FIRE - January 27, 2004
PHOTOS BY DAVID WILLIAMS - Cape Graphics Service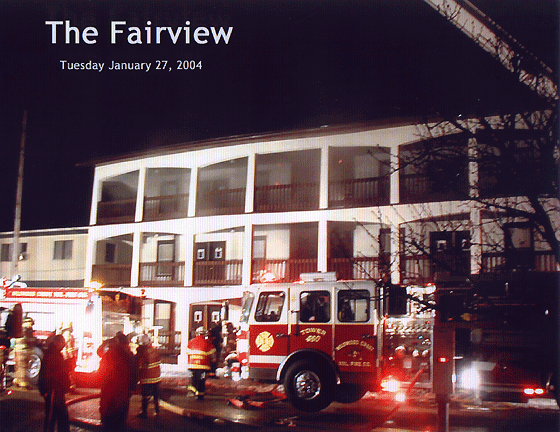 January 27, 2004 - 19:30 hrs - E438 and T460 operate at a two-alarm fire in a 3-1/2 story balloon-constructed condominium building at 5605 Seaview Ave., Wildwood Crest. First-in crews encountered a kitchen fire on the second floor rear of the mid-1920s building, extending through an exterior balloon wall to the third floor and attic. Effective roof ventilation and an aggressive attack on both the second and third floors minimized extension to adjoining units. Wildwood Fire Department (T351, E337, E336) arrived on the second alarm and assisted in the extensive opening of walls and ceilings that was required.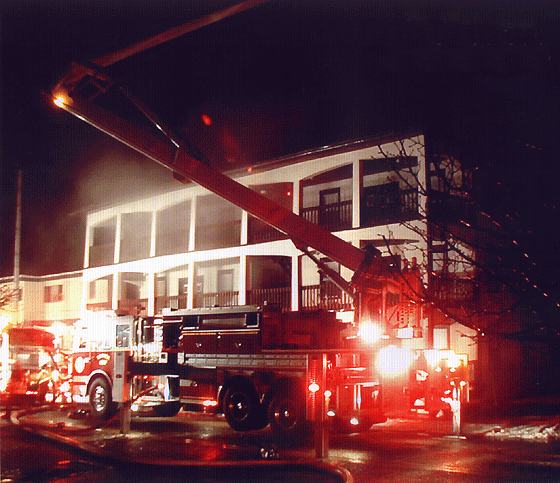 E437 established a water supply to E438 and T460, and SS475 filled air cylinders. Ambulance R4 from Wildwood Crest Rescue stood by at the scene. An investigation by the Cape May County Fire Marshal's Office determined the cause to be electrical arcing behind wooden cabinets in the kitchen. A crew remained on the scene all night to guard against re-kindle. The WCFD Auxiliary provided coffee during the snowy evening, and Cape May Fire Department's E5132 covered the Wildwood Crest firehouse.